Evee // 2020
UX Design- Personalized City-Guide
Brief
How can we make a new city feel like home? This is where Evee comes in. Focusing especially on city newcomers/expats, Evee was designed to present the user with a list of curated events they might be interested in, allowing them to discover everything the city has to offer in terms of experiences. It streamlines browsing, ticket purchasing and inviting friends and family all in one mobile application.
Context:
This application was designed as part of CareerFoundry's UX immersion course that I took in 2020. I worked on designing this application over a 5 month period (part time). The approach used to create this product was a user centred design process. My work for this project covered user research, UX design, wire framing and user testing.
I used Adobe XD to create the wireframes and prototypes and Adobe CC for other visual work.
Newly settled expats need new means to discover the city and their surroundings because they tend to miss out on a lot of experiences within the city. These experiences could help them feel more at home and build new relationships with other city dwellers and get to know the community they now live in.
Problem
Many newcomers and expats have a hard time adjusting to their new city and home. People have also lost touch with their surrounding and often don't make the most of them. Even though we are always connected to the internet, we seem to be disconnected form the world and the experiences it can offer us.
Solution
Having a tool that allows newcomers to discover the city in a fun and interactive way can make the process of moving to a new city easier. It will make the process of leaving the house less daunting. Users can opt to be notified for specific types of events,concerts etc. The events can be viewed on a map and a list, the user's location will also be shown on that map in order to familiarize the user with the city.
Mobile applications like Facebook's Event feature and Eventbrite help users discover events.
It's important to understand where are the strengths of these applications, as well as discover where there are rooms for improvement in order to be able to implement them in the proposed product. Understanding the existing applications offers some general guidelines in terms of what the user might already be familiar with in terms of language, interface and features. The challenge here was choosing which product to focus on. I decided to go with facebook as it's the most commonly used.
Facebook remains one of the most commonly applications for discovering events. The user can always find a wide range of events, from concerts to independent screenings and more. The Events feature is embedded within facebook.

The analysis focused on this specific feature as it is closely related to the topic of events and interesting places to discover in the city, especially as a newcomer.
This feature offers a list of available events nearby. Through this feature, they are communicating the details of events happening in the city.
We can summarise facebook event's relevance in the following:
Objective: Inform people about events happening
Strategy: Suggesting events to people based on their data
Market advantage: Embedding this feature in facebook is a market advantage seeing as theere are so many people who use this app already. Facebook also has a lot of data that they can use to curate events to people depending on their interests and pages they like
There is however room to grow:
- Many people are moving away from facebook, the younger generation especially as they are more concerned with issues of data privacy
- Creating a mobile application separate from Facebook for the younger generation can prove to be an opportunity.
- It would be interesting if a person could pick a radius of distance that they're willing to go in order to participate to this event.
This is where a primary feature of the application was defined: a
n events page that shows the events on a map, while having the ability to toggle between list and map view.
User Personas, Flows and Journeys
Interviews were held with immigrants that now settled in Montreal. The people interviewed come from a variety of different backgrounds and presented different needs. The interview subjects had to have a very specific profile, which made the process of screening them challenging. The subjects had to be immigrants who moved to the city in the last 10 years. I was able to utilize my social circle as well as social media to have to recruit them. This helped better understand what were the primary themes, thus helping with the direction of the mobile application. At times, different interviewees gave vague answers. I remediate that by asking them follow up questions to make sure that no information was misunderstood. These interviews helped in forming the user personas seen below. In this specific project, creating personas was especially important as this product is specifically focusing on the community of immigrants in urban areas. Creating these personas allowed me to better curate the application and its features, and build an empathetic understanding of the user.
Sarah's User Persona, Journey and Flow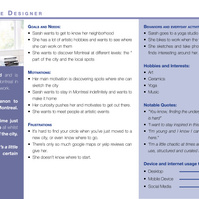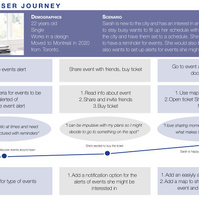 Carmen's User Persona, Journey and Flow
Low-Fidelity
The low-fidelity wireframes make the user flows more tangible. These initial sketches allowed me to visualize what the mobile application would need at every step of the user flow: a list view with a photo and the information on certain events, a map that allows the user to visualize where they are. At this stage, only 3 pages were identified: liked events, explore and tickets.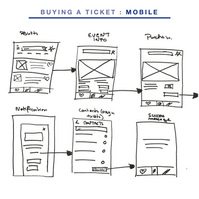 Mid-Fidelity
The mid-fidelity wireframes helped define the onboarding pages, as well as the general scale of the features on every page. A notification button was added to the menu bar. The side menu was introduced to include other features that the user would not need as regurlarly as those present on the bar.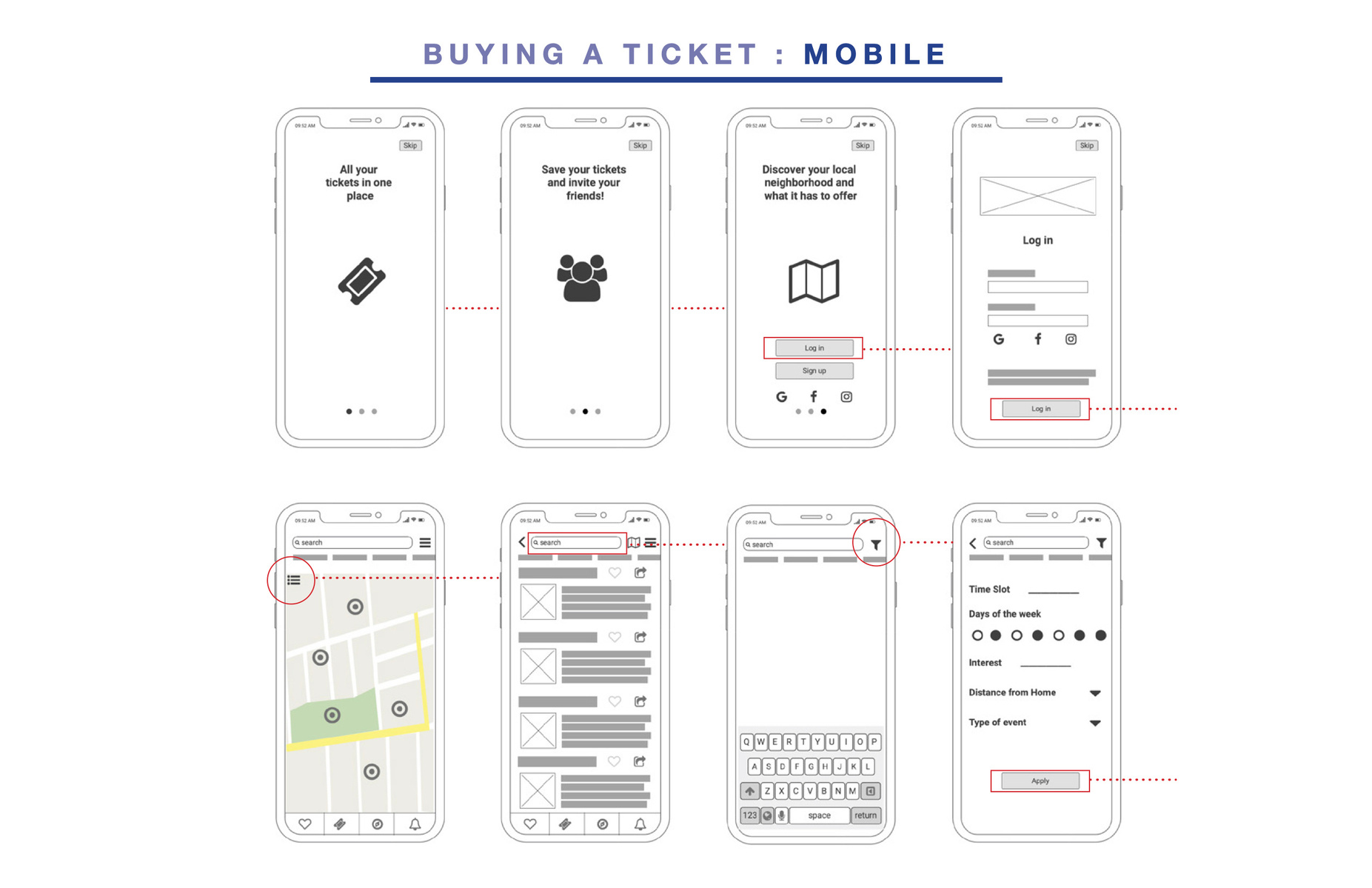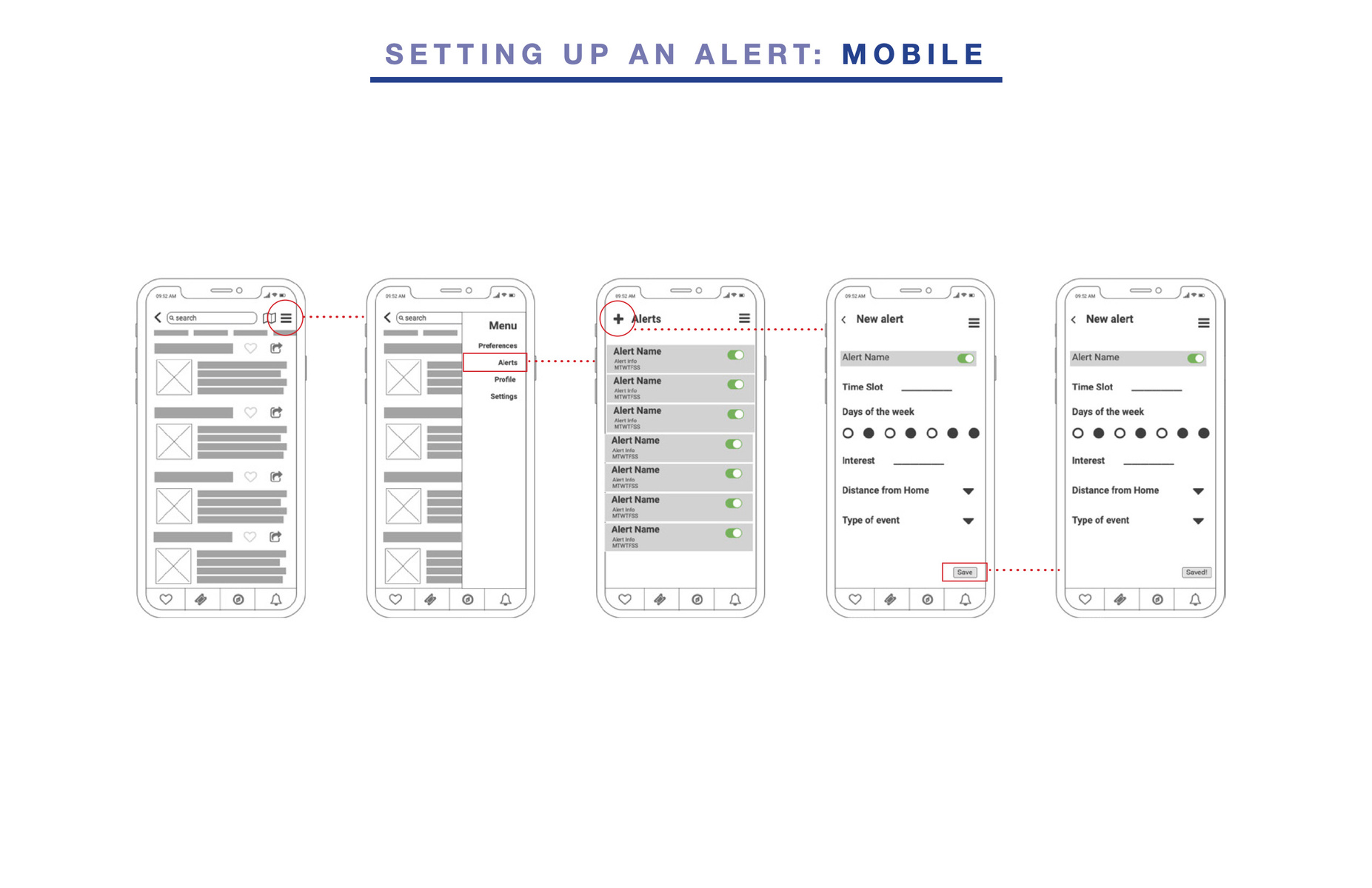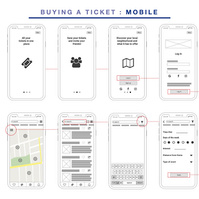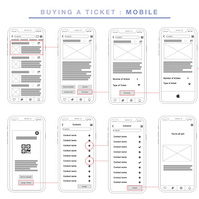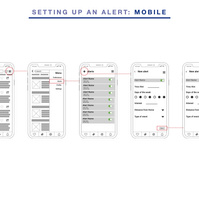 The mid fidelity wireframes were translated into a clearer layout for user testing. The interview sessions were recorded and helped indentify where the product might need revisions.
Most changes were subtle (font size, event information, etc.), except for altering where certain pages are. Specifically, the alert settings. This page could originally be accessed through the side menu, however several individuals instinctively went to the notifications page looking for the alert settings buttons. This prompted me to change the location of the alert settings to the notifications page as it was more familiar and instinctive for the users. A ticket sharing option was also added after some users vocalised their frustration with having one person carry their all the tickets for group events. Finally, a wheelchair accessibility button was added in order to be as inclusive as possible.
High Fidelity Wireframes and Final Protoyping
Style Guide
After a number of iterations, A/B and preference testing, the layout, font and colour palette were selected. Feedback from the users in the interviews allowed me to assess that this application would be used indoors- this explains the darker background. The layout also needed to be playful, with a memorable colour palette- while keeping the pages streamlined and easy to use.
Onboarding
I focused the onboarding on telling the story of how one can connect to the city and its people. The choice of the illustrations showcases a group of young people specifically to present the user with a sense of the community that they might find by attending the events curated by Evee, and thus creating a sense of home.
Other Pages
Other pages include the QR codes for the tickets, notifications, preferences, user profiles and other settings (such as payment) can be accessed through the side menu. This gives the user the freedom to alter their information, preferences etc. at any time without having these pages clutter or take up space on the screen.
Future Iterations to be Considered
Currently the application does not have a waitlist option. It would be interesting to add that if people were interested in a certain event and did not have enough time to purchase the tickets. This can be explored later on in further preference testing. It would also be interesting to add a chat option with venue organizers. Currently there is a contact option which would open either the phone number or a mailto link.
These hypothesis will be validated with further interviews and user testing.
The user testing will become more focused on a single feature rather than the application as a whole. Now that the structure of the application is here, it comes down to fine tuning every feature on its own. More targeted questions and further A/B testing will be done where A is the current app and B is the app with improvements.
Other improvements to the app include a mobile and web version/tablet of the app that is specific to the event organizers. The base of the interface will be fairly similar to that of the customer users. However, seeing as I have less knowledge on the needs of the venue, I will have to spend longer reiterating the design and conducting research.